There is no woman who does not like flowers. I especially want flowers when the streets are chilly, bad weather, winds are raging, it is raining or snow is sweeping.
It is winter, and women feel a special need for attention and care.
That is why men are simply obliged to pay attention to winter flowers 2019-2020, which florists create with special skill.
Each season has its own trend of bouquet design, so winter bouquets will undoubtedly have a special design, a special mood, bringing a lot of positive, joy and affection to cute girls.
Fashionable winter bouquets, trends and trends that we consider today will be the best non-binding gift, indisputably, improve the image of a charming bride, will delight a woman of any age.
For those who want to create their own winter bouquets, we have prepared wonderful winter bouquets of photos, among which you will certainly find your idea of ​​decorating a winter flower arrangement.
And now briefly about the main thing …
Winter bouquets 2019-2020: floral trends, design ideas, the best winter bouquets photos
Winter bouquets with their own hands will be interesting not only for florists, but also for those who can not imagine their lives without flowers, and loves to experiment with their design in every free moment.
In order to create beautiful winter flowers with your own hands, you need to know not only the secrets of floristic craftsmanship, but also the subtleties of creating winter compositions, namely, which flowers can be included in the winter bouquet, what design ideas exist in the field of creating unconventional options.
Also, information will not be superfluous, what kind of winter bouquet can be presented to a girl, made for a bride, or a woman of solid age, because they can be different in style.
Winter bouquet, as a rule, includes flowers and plants that are not afraid of cold, easily tolerate low temperatures.
Winter bouquets and other compositions of this season can consist not only of flowers, but also of traditional twigs of coniferous plants (juniper, thuja, fir, cypress), cones, ears, winter berries (barberry, wild rose, rowan, viburnum), dry plants and colors.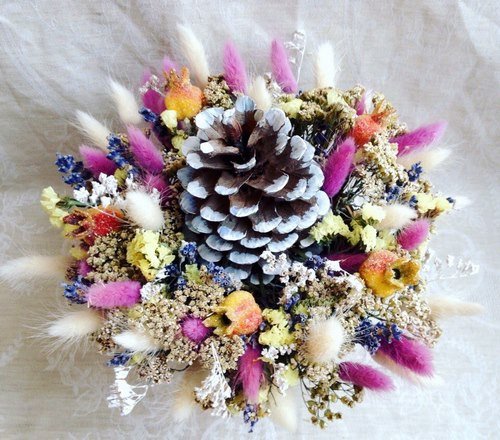 Winter bouquets 2019-2020 are not limited to monotonous white flowers, florists recommend creating contrasting winter bouquets in delicate and deep and rich colors.
As a rule, florists take badin, intricate branches of various trees, cotton, cinnamon sticks, to create winter flower arrangements, and dried fruits and nuts are used to create completely exclusive and original winter bouquets.
By adding dry twigs and dried flowers, you get a lovely winter bouquet that can stay at your home for a long time.
Winter Bouquets 2019-2020 for brides – chic ideas for creating an important element of a wedding image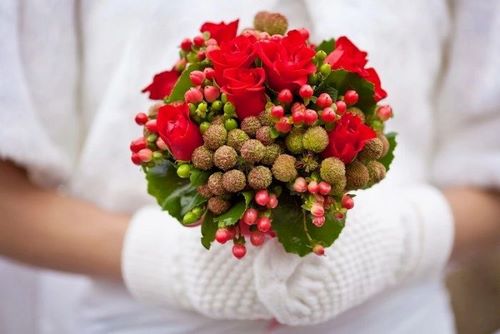 Weddings are celebrated not only in the warmer months, but also in winter, so every bride wants to pick up a beautiful winter bouquet.
Florists offer brides fashionable winter bouquets with elements of fabric, jewelry, feathers, as well as chic extravaganza of color combined with the elegance of winter flowers in one composition.
Winter bouquet for the bride, as well as gift winter bouquets, will be very successful in yellow, red, burgundy, blue, white, blue, violet and crimson shades. Add a contrast to help blotches of black in a bouquet for the winter.
The most popular today are winter bouquets for the bride, which include such types of flowers as roses, ranunculus, bright amaryllis, small chamelaciums, anemones, frost-resistant chrysanthemums, succulents, etc.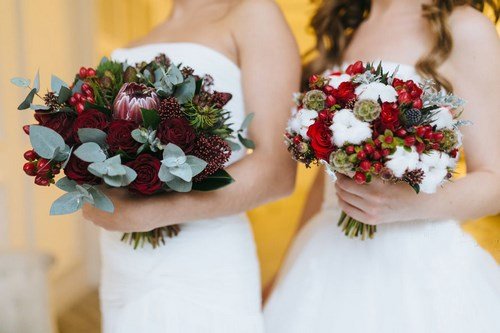 Winter bouquets with hints of spring mood can be created by adding a composition of delicate tulips and daffodils, snowdrops.
Also, winter bouquets look great if there are several callas, carnations, gypsophila, freesias, hydrangeas, cymbidia in the composition. These types of flowers are relevant for wedding bouquets of the season.
Beautiful textured greenery will help to transform the winter bridal bouquet, making it gorgeous.
Add in winter bouquets sprigs of brunia, scabiosa, cinerraria, eucalyptus and get a gorgeous composition that will delight everyone.
The most beautiful winter bouquets 2019-2020: photos, new items, design ideas
And now plunge into the splendor of winter flowers and compositions in the form of fabulously beautiful bouquets for the winter season.
Find an idea for yourself, and be sure to try making a winter bouquet with your own hands to decorate the house or a gift for your beloved half.