One of the most current trends in clothing fall-winter 2019-2020 is knitted fashion.
Fashionable women choose knitted things with great delight, because it is comfortable, beautiful, warm.
Designers have offered women a large range of models and styles of knitted clothes, among which will be knitted sweaters, pullovers, sweaters, dresses, etc.
Along with the knitting technicians in many collections of famous fashion houses, exclusive handmade items that are valued for their weight in gold were demonstrated.
Author's knitting today is embodied in two main directions, namely knitting and crochet.
For the autumn-winter season, undoubtedly, more interesting is knitting using good-quality yarn, thick threads, textured patterns that make great knitted items.
For the spring-summer season, crochet is more relevant, with which you can make quivering openwork stylish things crocheted in an unusual author's performance.
Is crocheting the most relevant trend of the season? Hardly … However, many women like crocheted clothes. Many women are ready to make crochet knit clothes with their own hands in the evening free from work, when in fact there is absolutely nothing to do.
Beautiful crochet can transform your spring-summer bows, add originality to your style, allowing you to feel great in clothes that no one else will have.
Fashionable crochet, the trends of which we consider today, lovers of needlework are often mastered on their own, using schemes from specialized magazines and web resources where such information is presented.
We want to acquaint you with the ideas and styles of this wonderful craftsmanship, to show how fashionable crochet can be realized, what beautiful crocheted clothes will be relevant in the coming seasons.
We presented crochet knitwear for you in a wonderful review, where crochet worn clothes are shown in a variety of models and styles, techniques.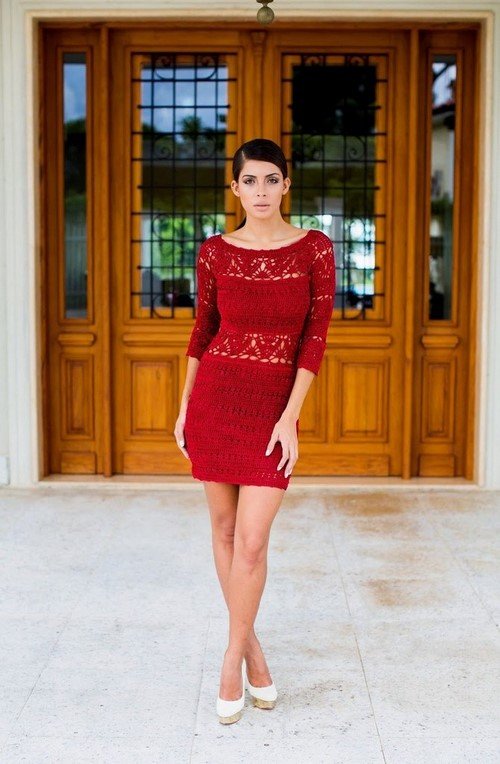 Crochet today is implemented in a variety of beautiful patterns, recreated in such clothing models as dresses, skirts, cardigans, tunics, tops, jackets, hats, scarves, etc.
You can create crocheted knits with knitting options such as simple crochet patterns, openwork patterns, crochet mesh, shell patterns, thick patterns, multicolor patterns, embossed crochet patterns, etc.
Fashionable crochet can be performed in different motifs, creating knitted flowers, waves, zigzags and other elements on your clothes.
Crochet knitted clothes are usually presented in light, pastel shades of the palette, mainly in white, beige, blue, and turquoise.
But the original fashionistas, of course, try to create crocheted knitted things and in brighter and more saturated colors.
Designers repeatedly use crochet lace in many collections, using this handmade decor method to trim dresses, trouser and skirt suits, skirts, jackets, cardigans, accessories.
Fashionable crochet presented such famous brands as Minnie Rose, Free People, Harrison Morgan, Red Valentino, Joie, Malandrino, Farm, Moschino Cheap Chic, Luisa Beccaria, Karen Millen, Diana von Furstenberg, Calypso, Catherine Malandrino, Joie, Free People, Eternal Sunshine Creations, Prada, DolceGabbana, Michael Kors, etc.
Crochet 2019-2020: crocheted romantic dresses and exquisite skirts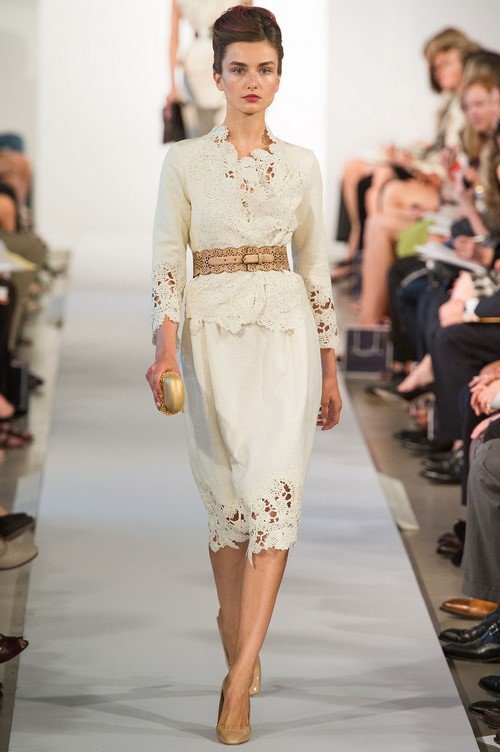 As in the autumn-winter season, spring-summer crocheted things in the form of delicate dresses and skirts will be relevant.
Light and quivering crocheted dresses and skirts will help create romantic and elegant images for girls and women, complementing the style of fashionistas with exclusive models for the spring-summer season.
Crochet skirts can be complemented with a beautiful top, lace, or chiffon blouse, knitted t-shirt.
Crocheted skirts in the form of pencil styles, flared short, midi length and floor will look elegant.
Crochet dresses are presented in asymmetrical styles, pencil, half A-silhouette, trapeze.
Today, many brides choose special wedding dresses. Crocheted knitted dresses also fell into the category of exclusive models of wedding dresses, captivating with mystery and unusualness.
Crochet can also be used to trim dresses and skirts made of other materials, which looks very luxurious and elegant.
Crochet 2019-2020: crocheted crocheted in the form of tops, blouses, tunics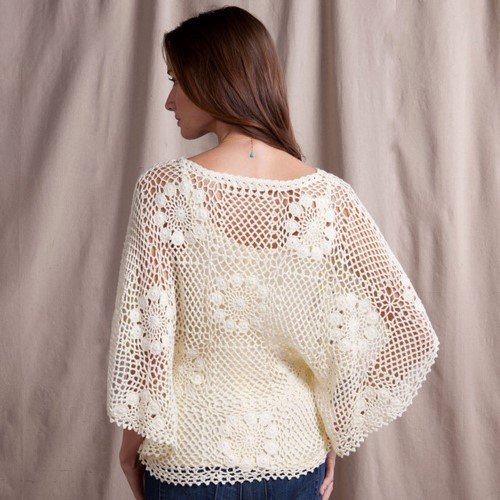 Summer fashion is multifaceted and original, so it is simply necessary to include such crocheted items as a top, tunic, light openwork blouse or cape in your wardrobe.
In such clothes you will not be hot at all. You will feel comfortable, look very feminine, thanks to the ability to combine knitted crocheted things with many other elements.
Crocheted tops and blouses can be made on the straps, with cute flashlights, in the free version, asymmetrical, with different variations of neckline cutouts, etc.
Attractively and unusually look a tunic or blouse crochet in a bat style, which can be dressed not only as a top with a skirt, shorts or pants, but also as an element of a beach image over a leotard in an elongated version.
Stylish crochet knit clothing is in harmony with denim shorts, short skirts, or light-fitting trousers with wide and wide.
Therefore, you can create a lot of gorgeous images in a romantic, street and boho style in which you will look amazing.
Crochet knitted clothes 2019-2020 in the form of cardigans, vests, capes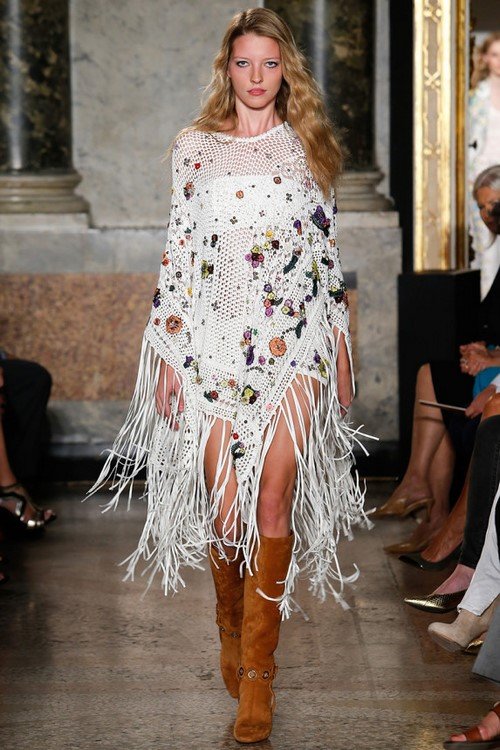 In the spring-summer season, when we had already packed warm outerwear into wardrobes for a long time, but I still want to take a stroll on cold evenings, you can appreciate the original crocheted things like cardigans, vests, capes, and ponchos, which will be the complementary element which will save from discomfort in the cool summer days.
Beautiful crocheted upper elements of clothing can be combined with T-shirts, T-shirts, tops and blouses, combined with fashionable and classic jeans, to complement them with skirts, dresses, shorts and pants.
Crocheted outerwear can be made in a classic, asymmetrical, elongated style that will allow you to create a wide variety of bows for every taste.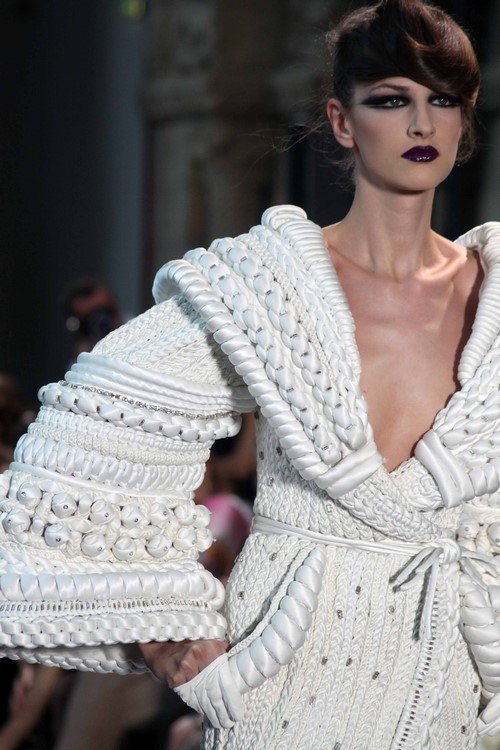 In the fall-winter season, designers also used crochet in many collection ideas.
Original solutions were tried in the creation, jackets, sweaters, skirt suits, dressing clothes.
You can try crocheting with your own hands for getting exclusive models of scarves, snoods, warm hats in different styles, mittens and socks.
Also, crochet clothes should look like you as a wardrobe replenishment for your kids.
Little girls, of course, will appreciate the beautiful dresses in this handmade equipment, short cardigans, hats, etc.
In addition to the above mentioned trends of knitted clothing, crochet has been used in the creation of accessories, in particular, elegant and stylish handbags with knitted ornaments.